Applications now open for the Fall 2021 Venture School cohort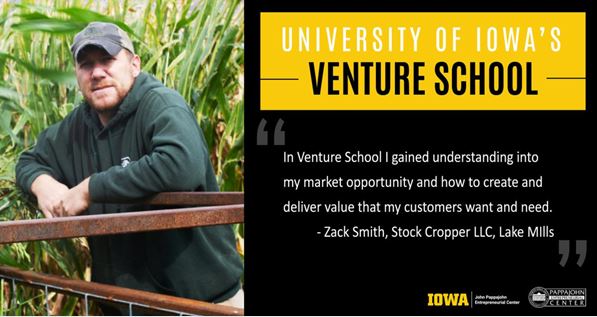 Master the startup process with this innovative training program focused on real-world experimentation, customer discovery, and Lean LaunchPad methodologies. Venture School, the state of Iowa's premiere entrepreneurial training program, will help you increase your likelihood for success while reducing the risk of starting your business.
Venture School has helped guide over 250 teams across the state of Iowa, and is designed to benefit Iowa startups, small businesses, non-profits, and corporate innovation teams. While Venture School is designed primarily for start-ups, it also has value for non-profits and businesses looking to introduce a new product or to expand into new territories.
Cost: $299 for you and/or your team
When: Fall 2021
Orientation: Thursday, September 16, 2021 @ NIACC Campus
Classes: Every Thursday, September 30 - November 4, 2021 via ZOOM
Venture School Launch Day Competition: November 11, 2021 @ NIACC Campus
Time: 5:30 - 9:00pm
Businesses based in Winnebago and Worth Counties have an opportunity to apply for a sponsorship from Winn-Worth Betco (WWB). WWB proudly sponsored 4 businesses last year. To apply for sponsorship, send the application to director@winn-worthbetco.com or mail to PO Box 93, Lake Mills, IA 50450. Applications must be submitted prior to the date of orientation. Sponsorship for Venture School by WWB is a reimbursement scholarship. Certificate of completion is needed prior to reimbursement.
Learn more about Venture School here.
Apply by September 9th, 2021 to Venture School here.